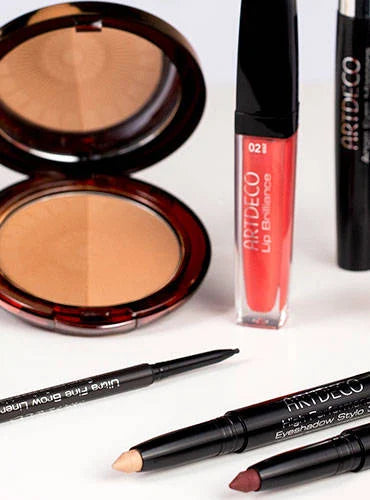 Makeup tip
Bronzed glow makeup
Want long-lasting makeup with a radiant glow? Discover the perfect summer makeup with our bronzed glow look. It focuses on bronzing and highlighting with shimmer.

In our step-by-step guide, we show you how to look as radiant as the sun.
Step 7
Add radiant highlights
Apply the golden eyeshadow under your brows, from the bridge to the tip of your nose, to your Cupid's bow above your lip, your chin, and your cheeks.

To do this, take the eyeshadow on your fingers and gently work it into your skin.
Step 8
Bronze it!
Use a darker shade of bronzer to give a sun-kissed glow.

Pick up the powder on a blush or powder brush (depending on the size of your face) and use it to sculpt the forehead, accentuate the cheekbones, and define the chin area.
Step 9
Go for Glow
In summer, your lips dry out faster than usual. Lipsticks with nourishing waxes serve as a protective barrier, while adding moisture and leaving your lips feeling soft.

Choose a lustrous gloss with a beautiful shine for your bronzed glow makeup. This will create a stunning volume effect.
Discover all products
SUMMER MAKE-UP
THE SUMMER ESSENTIALS FOR YOUR BRONZED LOOK
Want even more makeup tip?
TOP CATEGORIES FOR MAKEUP AND CARE