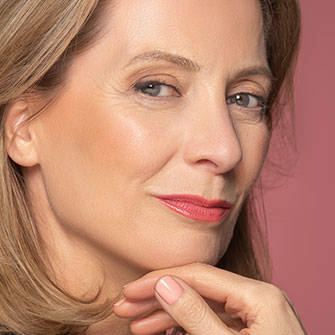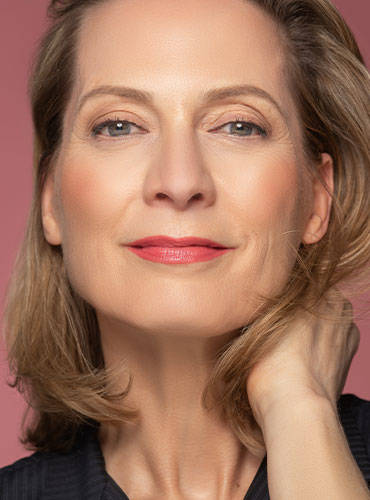 MAKEUP TIP
Makeup for mature skin
Learn how to take proper care of mature skin and discover how to accentuate your most beautiful facial features. Our step-by-step guide covers the most effective tips and tricks for making your face look younger.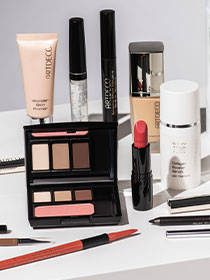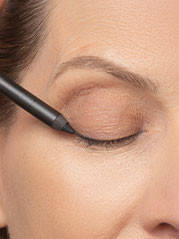 Step by Step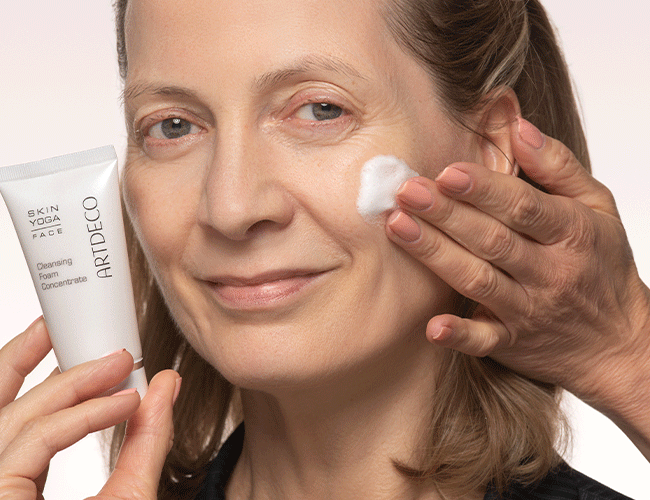 Step 1
Skin care and preparation
Proper skin care is essential to prepare your skin for makeup. Start by applying a small amount of Cleansing Foam Concentrate, no bigger than a pearl. Then gently massage the moisturizing foam into your skin before rinsing it off in circular motions. Your skin is now perfectly cleansed.
Next you can apply a Tonic Spray. This has a balancing effect and supplies the skin with additional moisture.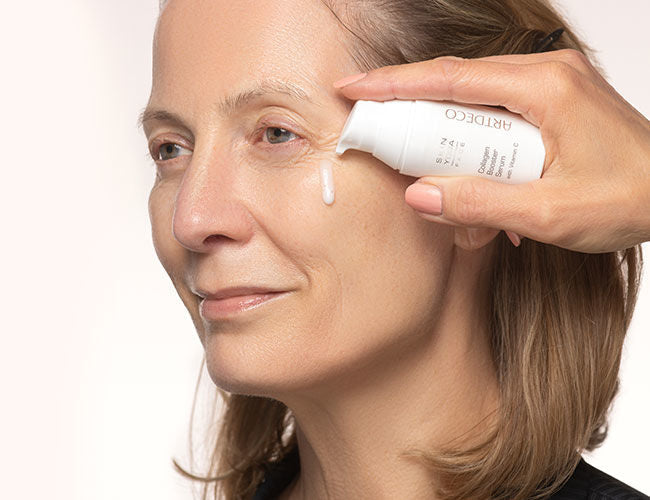 Step 2
Vitamin C boost for mature skin
Apply one pump of a collagen serum with vitamin C to your face and décolletage. The collagen and hyaluronic acid firm your contours and provide extra moisture. Almond oil and vitamin C also improve the elasticity of your skin. They soften existing wrinkles and prevent new ones from forming.

Beauty tip: Apply the serum before your face cream.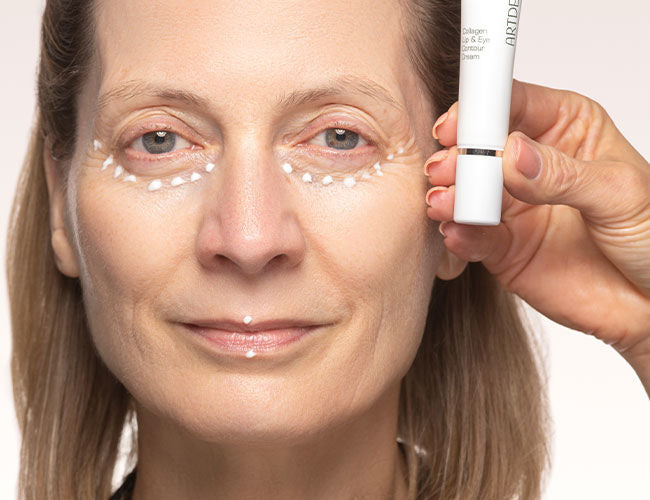 Step 3
Refresh with an eye cream
Eye cream isn't just suitable for use on your eyes but also on your lips. It leaves them looking refreshed and younger. Dab the cream under your eyes and gently massage it in. Any product left on your fingers can be applied to your lips.

It visibly plumps fine lines and wrinkles for a more even complexion.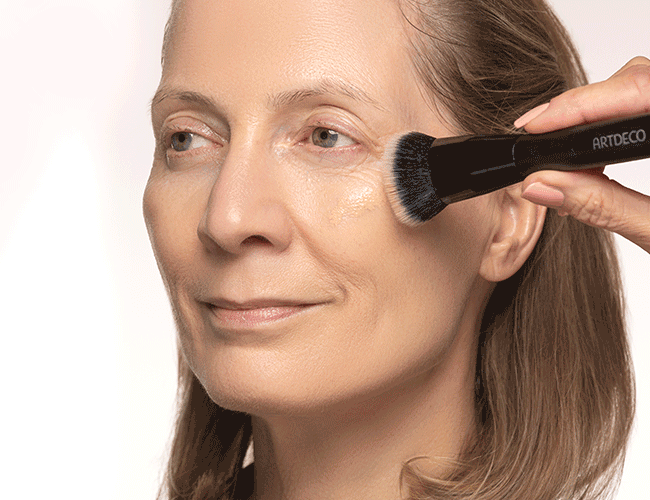 Step 4
Create the perfect base
Start by priming your face. Then apply a foundation with a moisturizing texture and hyaluronic acid to help create a smooth and even complexion. The hyaluronic acid has a plumping effect and minimizes the appearance of wrinkles.

Easily hide signs of tiredness and areas of uneven color with a concealer. Set it with a powder to avoid it settling in fine lines and wrinkles.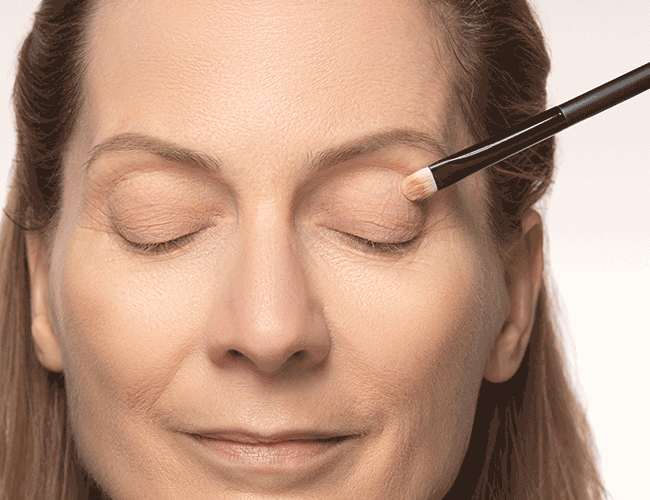 Step 5
Visible lifting for your eyes
To get longer-lasting eyeshadow, use an eyeshadow base. Prime your lid with a light eyeshadow. This will reduce the appearance of wrinkles. Intensify the outer corners of your eyes with a darker tone. Start by blending this into the middle of the lid. Then blend the rest of the eyeshadow in circular motions.

For a more extreme lifting effect, emphasize the outer third of the lash line with a black eyeliner. To soften the liner and set it in place, apply a dark eyeshadow over it.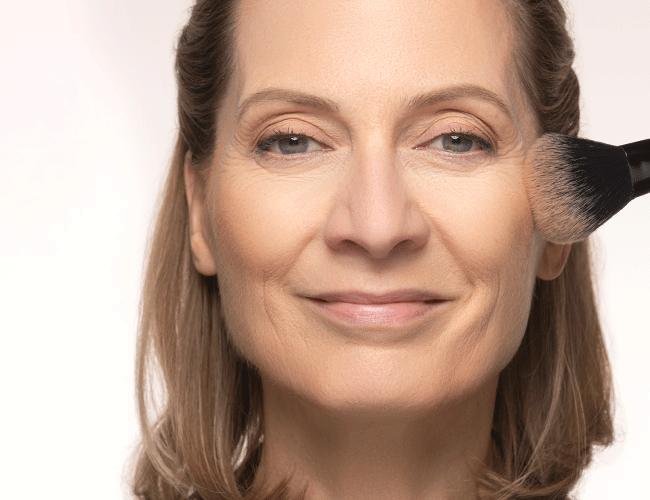 Step 6
Change your face with bronzer and blush
Start applying bronzer at the highest point of your cheekbone and sculpt your face in a 3-shape for a beautiful lifting effect.

To add a little extra freshness, apply blush along your cheekbones and up as far as your temples in circular motions. This will accentuate them and make them appear lifted.
Step 7
Make your lips appear larger
Start by applying lip liner to the outer edges of your lips, lightly drawing just outside of the natural lip line. This will make your lips appear fuller.

Go bold by applying a powerful lipstick shade for a radiant and refreshed look. Apply it to the center of your lips using a lip brush. Let both the liner and lipstick melt into each other.
Tutorial: Makeup for mature skin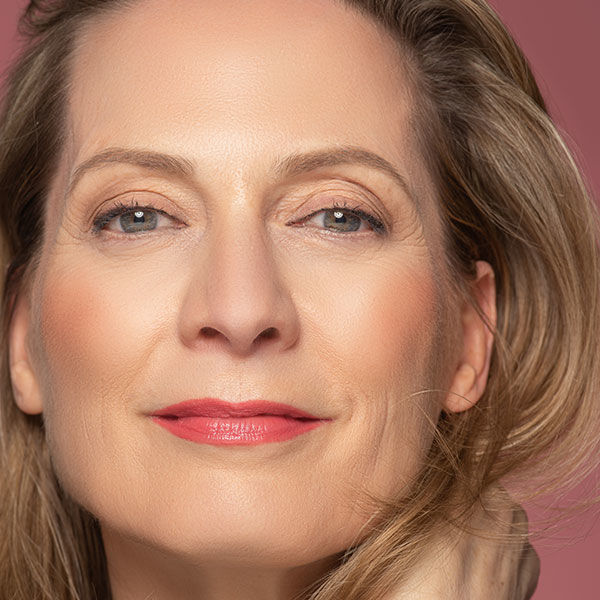 Discover all products
VISIBLY REJUVENATE YOUR FACE
TOP CATEGORIES FOR MAKEUP AND CARE