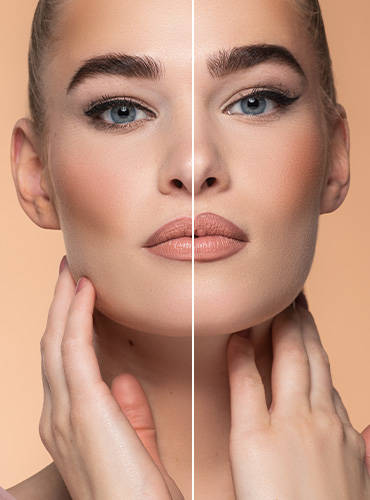 Makeup Tip
Makeup tips & tricks
With so many makeup tips out there, it's easy to lose track—especially since it's a well-known fact that makeup has no rules. There are an infinite number of techniques and approaches to explore.

Discover quick and easy ways to enhance your makeup routine and create looks to visibly lift your face.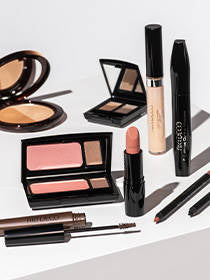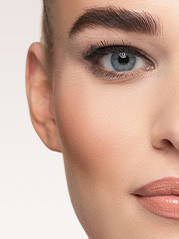 Step by Step
Tip 1: Changing your face with bronzer
Classic: Apply your bronzer in the shape of a number 3, working from the sides of your face into the middle. This adds extra warmth and structure to your face.

Trend: If you'd rather slightly lift your face, use an angled powder brush to work in a "C-shape" motion. Start at the widest point of the cheekbone and follow the shape of the letter "C" as far as your temples and forehead.
Tip 2: Properly applying blush
Classic: Blush is usually applied in diagonal motions, working from the lowest point of the cheekbone outwards. This can make your face appear fuller and more sculpted.

Trend: To help blend your blush into your makeup and further enhance and lift your facial contours, start at the highest point of the cheekbone and apply the blush in a "C-shape" as far as your temple.
Tip 3: Lifting with eyeshadow
Classic: To make the eyes appear rounder, intensify the outer corners of your eyes and blend the eyeshadow across the eyelid in circular motions.

Trend: For smaller-looking eyes and a softer look, intensify the outer corners of the eyes with an eyeshadow. Gently blend any remaining pigment on your brush across your mobile lid in diagonal motions.
Tip 4: Applying eyeliner
Classic: Eyeliner is typically applied along the lash line with a small wing on the end. This can make your eye appear smaller and deeper-set.

Trend: However, if you start applying your eyeliner at the outer corner and connect it with the highest point of your eye, it will give it a finer, more lengthened appearance.
Tip 5: Highlighting with concealer
Classic: The renowned method of applying concealer in a triangular shape is effective at brightening the under-eye area by drawing attention to it.

Trend: Less is more when it comes to concealer. If you want to emphasize certain areas of your face, you can use concealer to highlight them. Visibly lift your face by applying concealer to the inner and outer corners of the eye, the corners of the mouth, and the forehead.
Tip 6: Kissable lips
Classic: Start by lining your cupid's bow and follow your natural lip contour. Then fill in your lips as usual with your favorite lipstick on a lip brush.

Trend: To make your lips appear larger, apply lip liner from the corners of your mouth to your cupid's bow. Then gently blend the color into your lips. Apply your lipstick to the center of your lips with a lip brush and gently blend the pigment into the contour with your fingertips.
Discover all products
Makeup Tips & Tricks to lift your face
Lust auf mehr Schminktipps?
TOP CATEGORIES FOR MAKEUP AND CARE