Double Sharpener for wooden pencils
Double sharpener for thick and thin wooden cosmetics pencils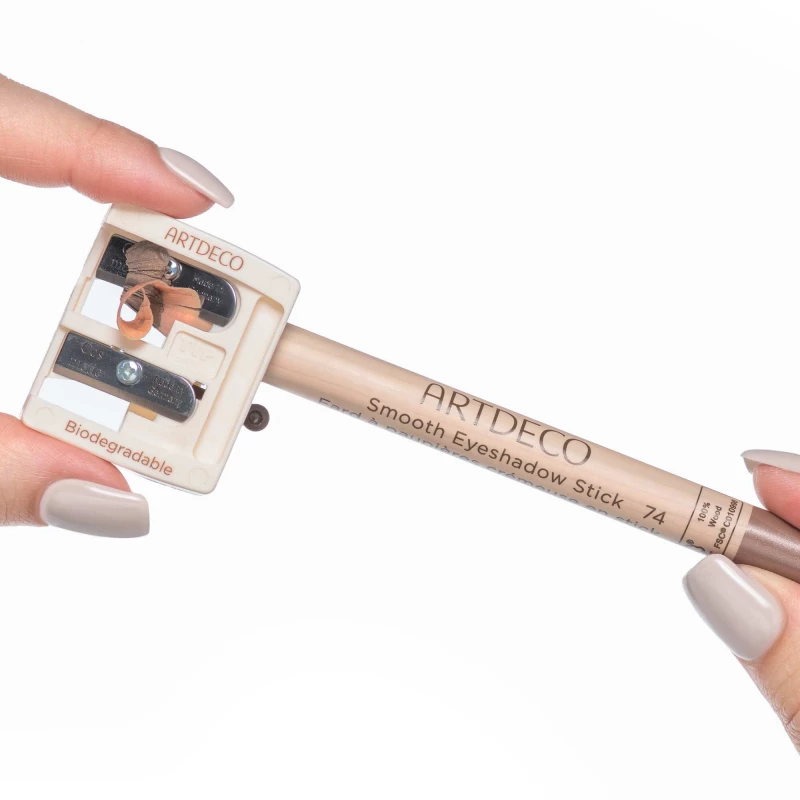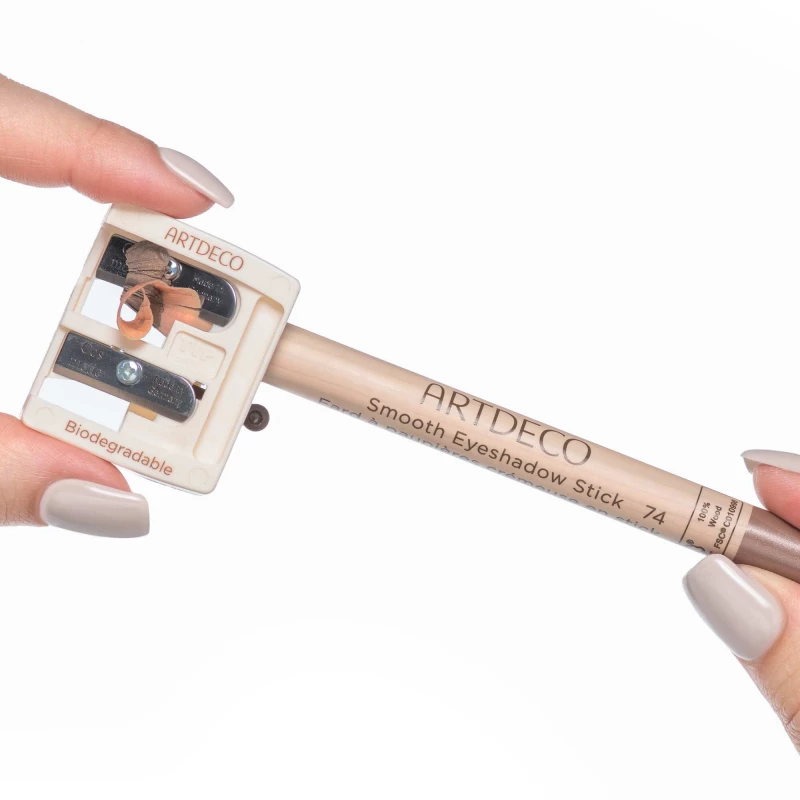 Highly effective sharpener for fine, precise results
Suitable for both thick and thin wooden pencils
No more over-sharpening and breaking the lead
The Double Sharpener For Wooden Pencils has a specially shaped blade made from several high-quality materials grinded perfectly at the ideal firing temperature. The extra-sharp blade trims down both thick and thin wooden cosmetic pencils with exceptionally fine and precise results—without splitting the wood. The transparent case enables accurate sharpening: Finally stop over-sharpening your pencils and breaking the lead! The included cleaning stick allows you to remove sharpening residues from the blade quickly and easily.

Packaging
Made with at least 85% MATER-BI material and around 15% bioplastic (PLA and bio-polyester), which ensures the stability of the material. The main components used to produce MATER-BI are maize starch and oils from non-genetically-modified plants cultivated in Europe using traditional agricultural methods. It should be noted that only 1% of the total maize starch produced EU-wide is used for bioplastics. In terms of the use of agricultural land, less than 0.02% of arable land worldwide is used for the production of bioplastics. In order to produce the raw materials for 1 kg of MATER-BI, an average of only 15-30 liters of water is needed for plant irrigation—a quantity of only minimal importance for the earth's water supply. Unlike in the production of conventional plastics, the process does not use crude oil, thus reducing the level of carbon dioxide emissions, too. The sharpener is made of biodegradable materials. The sharpener blades are made of high-quality hard steel and not stainless steel. This means they will rust and degrade.
+ Show more
Use the thin side of the sharpener for thin wooden pencils and the thick side for thicker pencils.
+ Show more
Note: To optimize our textures, we implement new scientific findings promptly. This results in possible changes in the declaration.
Compatibility:
Ingredients:
Waterproof: No
Vegan: No
Item Number: 4995
EAN: 4052136115451
What our customers say
The sharpener is small but sharp
I have tested the sharpener & am really satisfied he is small but the blades are sharp as they say so beautiful small but fine
Good sharpener
The sharpener is well suited for sharpening eyebrow pencils or lipliners. It is suitable for both thick and thin pencils. However, I find him a bit expensive.
Does what it should
The DOUBLE SHARPENER FOR WOODEN PENCILS works perfectly. Both thick and thin pencils can be sharpened well.
TOP CATEGORIES FOR MAKEUP AND CARE