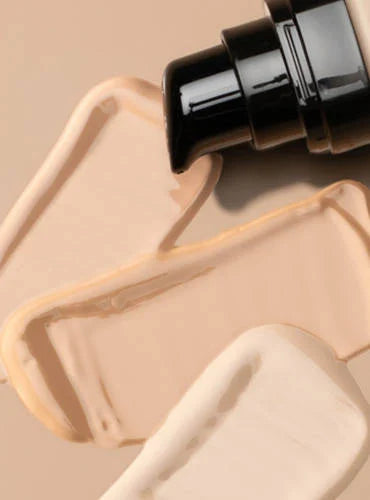 Makeup Tips
Avoiding makeup mistakes
Makeup edges, unflattering blush application, or eyebrows that don't suit your face shape. These makeup mistakes happen all too often!

But not to us! We'll show you how to apply makeup like the pros.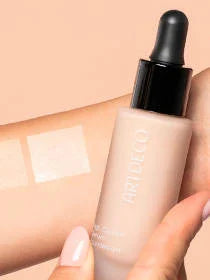 Step by Step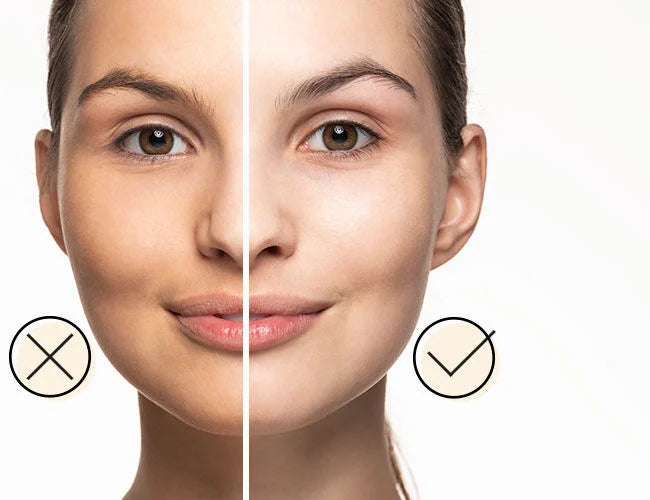 Mistake no. 1: Incorrect foundation shade
Choosing the wrong foundation shade often creates a clear and unsightly border around your face. Too dark a tone can also have an aging effect, and looks mask-like.

Choose a color that matches your skin! Test out your color along your lower jawline. The right shade will blend in with your skin and be hardly visible.
COOL, WARM, OR NEUTRAL? WHICH SHADE IS RIGHT FOR YOU?
Mistake no. 2: Applying concealer before applying foundation
There are a few things to bear in mind when using our favorite secret weapon, concealer: First, concealer should be applied after your foundation, and not before. When applying it, make sure not to use too much—only use it on the spots needing coverage.

Another important thing to remember is to always use a concealer that is one shade lighter than your skin tone. Concealer contains more pigmentation than foundation and provides better coverage on dark spots like dark circles and brightens shadowy areas, like your nose and the corners of your mouth. Apply a powder to mattify and set your look.
Mistake no. 3: Applying powder too low
Powder (contour, bronzer, or blush) applied incorrectly can leave your face looking unnatural, resulting in a harsh and dull appearance.

How to do it right: Start by applying powder to the back part of your cheekbones, working your way forwards towards the highest point. Apply any powder remaining in the brush to your forehead and your cheekbones.
Mistake no. 4: Making your eyebrows look too angular
Eyebrows are the most prominent parts of our face, and unfortunately, that's where many makeup mistakes are made. When it comes to eyebrows, the most common makeup mistake is making them too angular.

Instead, when choosing a shade, go for the one that matches your natural hair color. In addition, the arch of your brows needs to be shaped in a way that contrasts the shape of your face, i.e. sharp, angular facial features need an arch that is softly rounded. To work out where to start your brows, place your pencil in a vertical position next to your nostril (see our Brow Guide), then simply follow your natural brow line from here.
Mistake no. 5: Applying eyeshadow with the wrong brush
It's best to use a special eyeshadow brush to apply eyeshadow. They are soft and have long brushes, making it easy to blend, and leaving behind no rough edges.

Remember: Not every eyeshadow suits every eye color. Discover our guide, and find great looks with the perfect eyeshadow for your eye color.
AT LAST! HOW TO GET EYESHADOW TO STAY LONGER
Mistake no. 6: Neglecting the edges of your lips
When the edges of your lips aren't defined well, it can make your lips appear thinner than they actually are. The right way to do it is to apply your lip liner just outside the natural contours of your lips, all the way to the corners of your mouth.

When choosing the color, make sure it's not too light or too dark. The color should be the same as your lipstick.
TOP CATEGORIES FOR MAKEUP AND CARE