Make-up Sponges Edges
Latex wedge sponges (pack of 8)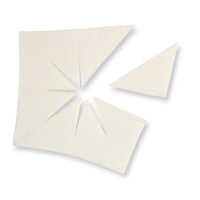 For applying makeup
For an even application Latex wedge sponges—pack of 8
The Makeup Sponge Edges can be split into eight separate pieces. The premium latex allows you to apply an even layer of Camouflage Cream, Double Finish, or any liquid foundation. Create a radiant complexion!
+ Show more
Squeeze some liquid foundation onto the latex sponge or use it to pick up some Camouflage Cream or Double Finish and apply it to the face.
+ Show more
Note: To optimize our textures, we implement new scientific findings promptly. This results in possible changes in the declaration.
Compatibility:
Ingredients:
Refillable: No
Waterproof: No
UV Protection: No
Vegan: Yes
Item Number: 6090
EAN: 4019674060902
TOP CATEGORIES FOR MAKEUP AND CARE